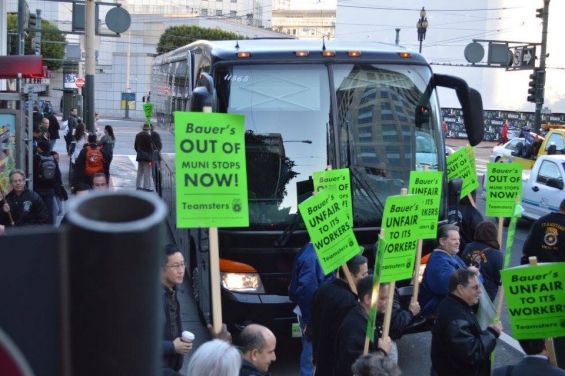 TEAMSTER.ORG | The San Francisco Municipal Transportation Agency (SFMTA) has sided with workers and transit riders, denying a permit to Bauer's Intelligent Transportation under the city's commuter shuttle program.
The decision follows unanimous support last week by the city's Board of Supervisors for a resolution calling on the SFMTA to not grant a new permit to Bauer's. In a letter to Bauer's, the company was denied an operating permit due in part to its failure to abide by the SFMTA's recently-passed labor harmony provision.
The Teamsters Union, drivers and community supporters urged the passage of the labor harmony provision. Last summer, drivers for Bauer's Intelligent Transportation held actions along with the support of Teamsters in San Francisco, urging SFMTA to pass the labor harmony resolution. Bauer's workers faced a brutal anti-union campaign by their employer as they attempted to form their union.
"The SFMTA has sent a strong message to commuter shuttle operators that service matters, how workers are treated matters and their reputation in the community matters. Bauer's has had every opportunity to match its competition as a responsible employer, and it has failed to do so. The SFMTA and Board of Supervisors have taken appropriate and needed action to protect shuttle drivers and riders," said Rome Aloise, International Vice President and President of Teamsters Joint Council 7.