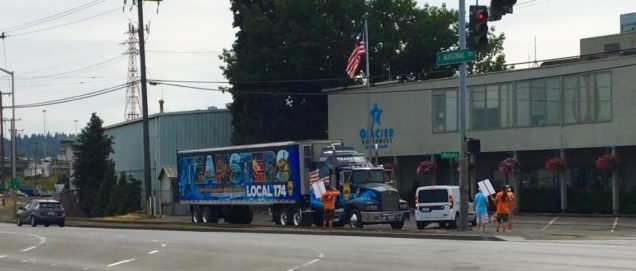 Another Day of Mediation Leads Nowhere As Sand and Gravel Companies Continue to Refuse to Bargain in Good Faith
August 16, 2017
Today, on the sixth day of the Unfair Labor Practice strike against sand and gravel company CalPortland, the rest of the nearly 300 Teamsters in the sand and gravel industry prepare to join their 86 CalPortland Brothers on the picket lines.
The potential for expanding the strike was discussed at a 9:00AM meeting at the Teamsters Local 174 Union Hall this morning, and the reaction from the crowd was thunderous: the drivers are absolutely ready to join CalPortland on strike to protest the various Unfair Labor Practices their employers have committed at the bargaining table.
These Unfair Labor Practices, which include refusal to bargain in good faith, refusal to provide information necessary for bargaining, and rejecting proposals without explanation or counter-offer, have made it impossible for the Union to reach any sort of deal with the Employers.