Jamie Fleming, Communications Specialist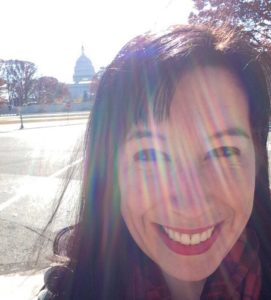 Jamie graduated from Georgetown University in 2007 with a degree in International Business and Finance. She immediately went to work for the IBT headquarters in Washington, DC as a Financial Analyst. In 2012, she moved to the Seattle area and continued in her role as a Teamster financial analyst, but began working out of an office in Local 174. After four years as the "stepchild" of the Local and many, many accusations of being an IBT spy, Jamie defected over to the Local 174 staff in January of 2017.
Her role as Communications Specialist includes being the webmaster of www.teamsters174.net, writing content for the site, taking pictures, running the Local 174 Facebook page, and designing and producing the Local's flyers and communications with the membership. She speaks English, French, Mandarin Chinese, and Spanish. She is extremely excited to have been officially adopted into the Local 174 family, and cannot wait to explore the incredible potential of her position to help Local 174 connect with its membership.
To share photos and videos of Teamsters Local 174 membership, please send to teamsters174photos@gmail.com. To share anything else or to hear a joke that probably is not very funny, email jfleming@teamsters174.org