Posted: December 5, 2014
Source: AFL-CIO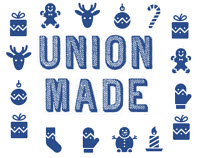 Can't find the perfect gift? Buy union!
No matter how you celebrate the holidays, buying union-made and made-in-America products means supporting good jobs. And there's no better gift than that.
Take the quiz from Union Plus to test your union-made smarts, and check out the links below to spread some union-made cheer!
Have a holly, jolly union-made holiday. It's either union-made, or no elfin' way!