The term of the current Local 174 Executive Board is January 1, 2016 through December 31, 2018.
Rick Hicks, Secretary-Treasurer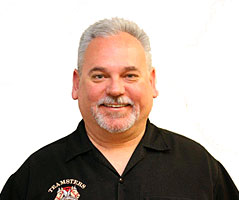 Rick began his Teamster career as a UPS part-timer in August of 1981 while attending college to become a teacher.  In 1985, he had the opportunity to become a full-time package car driver, which under a Teamster contract would be a far more lucrative career choice than teaching. Rick ultimately chose the Teamsters, and he has never looked back.
He was a UPS cover driver for eight years before settling into a regular bid route.  He became an activist and ultimately a shop steward, where his passion for representing those who were not as skilled at representing themselves – the ones the company tended to target – grew.  He became increasingly interested in representing his coworkers and had a strong passion to broaden that ability to a larger group.
During those years with UPS, Rick had the privilege to work with several outstanding Union men and women who gave him an education that became the foundation for his future and his eventual career choice fighting for the rights of Teamster members as a Union representative.
In February of 1994, during the first ever National UPS Strike over the Company's unilateral change in the maximum weight limit, Rick was noticed by the leadership of Local 174 and given an opportunity to work as a Business Agent. His tenure as a Business Agent began in January of 1995.
In 2000, Rick was elected Vice President of Local 174. In 2006, he took over the leadership of Local 174 after being elected Secretary-Treasurer. He was reelected to that position in 2009, and again in 2012 on the first White Ballot in 50 years. He was reelected for a fourth term as Secretary-Treasurer on another White Ballot in 2015, making him the first four-term Secretary-Treasurer since George Cavano.
In addition to his role as the Principal Officer of Local 174, Rick has also served a number of important leadership roles within Joint Council 28. He was appointed to the Joint Council 28 Executive Board as a Trustee in 2010, and was reelected into that position on a White Ballot in 2010. He then became the Joint Council 28 President in 2012, and was reelected on a White Ballot in 2014.
Rick has also served as a Trustee on numerous Teamster Trusts. He was appointed Trustee to the Washington Teamsters Health and Welfare Trust in 2008, and then in 2012 he was appointed as a Trustee on both the Western Conference of Teamsters Pension Trust and Pacific Coast Benefits Trust. He was elected Union Chairman of the Washington Teamsters Health and Welfare Trust in 2013, and was also appointed Trustee to the Western Region of Teamsters / 177 Health and Welfare Trust that same year. In 2016 he was appointed Trustee to the Legal Services Trust Fund.
Finally, Rick has also served important roles for the Teamsters on an international national scale, including being elected as Local 174 Delegate to the IBT Convention in 2006, 2011, and again in 2016 on the first Delegate White Ballot in the history of Local 174. In 2015, Rick was also appointed IBT Representative to the Solid Waste Division.
After over 35 years as a Teamster and a decade at the helm of Local 174, Rick has demonstrated over and over again the strength of his commitment to fighting for the rights of hardworking men and women. His leadership has turned Local 174 into one of the strongest and most militant Teamster Locals in the country. He is thankful every day for the support of his members.

Ted Bunstine, President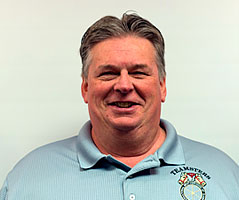 Ted is Local 174's President and its United Parcel Service Division Director. He has been a Teamster since 1979 when he was hired by UPS, and has been a Steward and Alternate at UPS. He was a 174 Business Agent during the Bob Hasegawa and Scott Sullivan Administrations, and was a member of the Bargaining Committees during the 1997, 2002, 2007, and 2013 UPS Negotiations. He was an Alternate Delegate to the 2006 and 2011 IBT Conventions, and a Delegate for the 2016 Convention. He has been married for 37 years to wife Peggy.

Ken Marshall, Vice President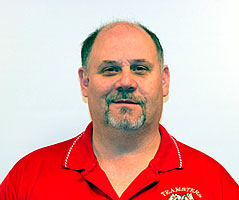 I started my career in 1994 as a Local 174 driver for the Seattle Times. In 1997, I began working for Allied Waste/ Republic Services formally known as Rabanco. In 2006, I was recognized as a future leader during the Allied Waste negotiations as a committee rank and file member. I was asked to work for the local as a Business Agent for the Sanitation Industry in June 2006. I accepted the position and have been representing the members in the Sanitation Division ever since. In 2009 I was brought on board to serve as the Vice President of the Local Union office. I am a firm believer that solidarity wins strong contracts. I look forward to the challenges ahead.

Carl Gasca, Recording Secretary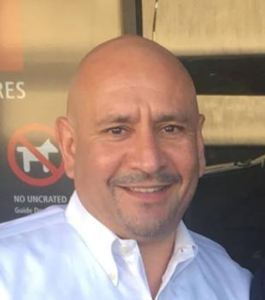 Carl's Teamster career began in 1984 when he joined Teamsters Local 741 as a dock worker at Pacific International Express (PIE). In 1987, he learned the difficult carhaul trade, and continued his career as a carhaul driver for 16 years. During his tenure in the Teamsters carhaul division, Carl also began pursuing leadership positions and was elected shop steward for eight years.
Soon after Local 741 merged with Local 174 in 2002, Carl left the carhaul business and started driving for Safeway in 2003. At Safeway, he also served as a shop steward and was elected to the Bargaining Committee in 2005.
Carl was recognized for his leadership ability and was asked to run as a Delegate with Rick Hicks in 2006. He was elected Trustee for Local 174 on the 2007 Rick Hicks slate, became a Business Agent in 2007, and was elected as the Recording Secretary in 2011, a position that he still holds. He was elected as a Delegate to the Teamster Convention in Las Vegas in 2006 and 2011, and was an Alternate Delegate in 2016.
After more than 30 years as a Teamster, Carl remains deeply committed to fighting for the rights of the hardworking men and women he represents, especially in core Teamster industries such as Freight, Construction, and Carhaul. He is known for his no-nonsense approach and rapport with the membership.

Kevin Dahl, Trustee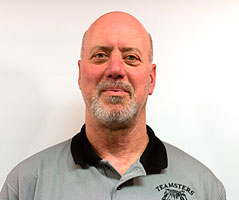 I was lucky to become a Teamster about 34 years ago in an organizational strike at a company named C.L.U in Seattle. I was on strike for almost 6 months. We had 7 members that stood on the picket line 24-7, all the while trying to make ends meet while on strike. I picked up casual work on the waterfront in Union shops running containers on the docks. I finally landed a great Teamster job at Salmon Bay Sand and Gravel in 1986 and worked until 1987 when I joined the Boeing Company. I have proudly held the position as shop steward for 8 years. I have always considered myself an active Teamster, going to our monthly membership meetings, helping on picket lines and so on. I owe my good fortune to the following Teamster members: Don Stober, Clancy Pirtle, Johnny Sullivan, Freddy Mirante, Scott Sullivan and Ric Monroe. They are my inspiration and history teachers to this great Union. They taught me what it is to be a Union member and how to continue what was fought for by our predecessors. In 2015, I was just asked to run as a Trustee on the Hicks Slate. We were elected through a white ballot in October of 2015, and the executive board was sworn in February 14, 2016. I will also attend the 29th International Teamsters convention serving as an alternate delegate. It is truly an honor to serve this membership in this capacity and to work with Brother Rick Hicks and his administration.

Adam Murphy, Trustee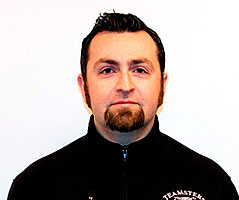 A proud Teamster for over 13 years, I started working at Columbia Distributing in November of 2002, where I am currently still employed.
As time went by, I found myself becoming more interested in how things work in a union shop in accordance with a collective bargaining agreement. I became more educated and aware of what, why and how things work and ultimately unhappy about the way some things were handled at my shop.
The peak of my discontent came in late 2006 when I found myself getting more involved and more active on my shop floor. Coincidentally, soon after this time I found myself in a spot similar to a lot of my coworkers … complaining about everything to our new business agent.
He challenged me to stop complaining and do something about it, so I did. He happened to be in the building posting for a shop stewards election, so I signed up.
I became a steward in early 2007 on our night shift. Being directly involved in discipline investigations and grievances gave me some great learning experience and first hand knowledge of how things work.
In September of 2010 I moved on to the day shift where I am currently still a very active steward.
Also during this time period I have been elected to represent my shop as a contract bargaining committee member, four consecutive times.
In July of 2013 I was invited to join the local 174 executive board as a Trustee. Being that this is, by far the best and most militant local in the country with an amazing, talented staff, I proudly accepted the appointment to a seat on this board and the opportunity to be more involved and active in my local union.
Being an advocate for social and economic justice, I have long had a passion and interest in civil rights, the labor movement, labor unions and the Teamsters union in particular.

Laura Malloy, Trustee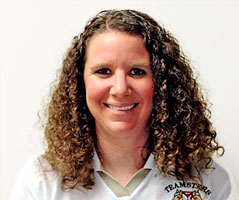 I was born and raised in Western New York and attended Ohio Northern University, where I earned my Bachelor of Science in Sports Medicine. After graduation I was accepted to Officer Candidate School for the US Navy. I was commissioned as an officer in Jan 2000 and went on to serve nine years. I decided to get out in 2008. In 2009 I was hired at Recology/Cleanscapes as an Operations Controller. After a few years our department recognized the benefits of what a Union can do and we all decided unanimously that we would become Teamsters. I was then elected to be our representative during negotiations and in 2011 I became a member of Teamsters Local 174. In 2013 I was appointed as a Trustee to the Executive Board of Teamsters Local 174 where I have been serving ever since.