THE DETROIT NEWS | The Teamsters and many other pro-worker allies have written repeatedly about the devastating lasting effects of bad trade deals in Michigan and across the U.S. But during the presidential primary, the importance of the issue finally caught the nation's attention.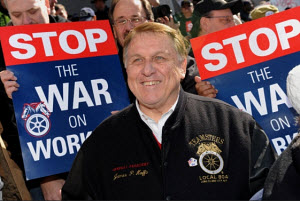 Michigan voters across the political spectrum showed both the candidates and the media that concerns about lousy trade deals like the North American Free Trade Agreement (NAFTA) and the proposed Trans-Pacific Partnership (TPP) can't be ignored. Contrary to what the corporate elites have tried to make the political class believe, this is not a fringe issue.
Fifty-seven percent of Democrats and 55 percent of Republicans voting in the March 8 primary agreed with the statement "trade with other countries takes away U.S. jobs." Those who saw through the unfair trade charade propagated by big business overwhelmingly supported the candidates who won in Michigan on both sides of the aisle.
Between 1994 and 2015, the Great Lakes State lost almost 232,000 manufacturing jobs, more than 28 percent of all such jobs statewide. Those good-paying union jobs aren't recreated even when unemployment ticks down like it has in recent years.
So while this country can't undo the past with NAFTA, it can prevent off-shoring tens of thousands of additional jobs that would result as part of the TPP if approved.
That message is spreading from coast to coast.