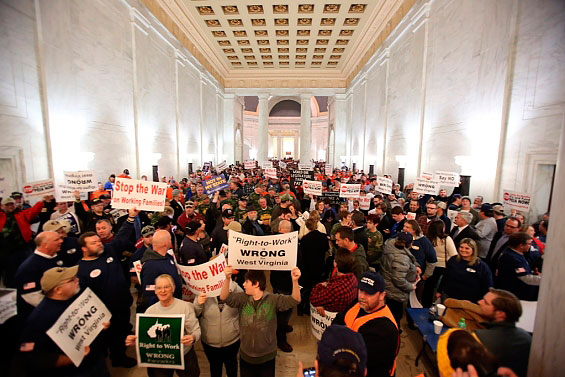 TEAMSTER.ORG |The Teamsters Union today is lauding a court ruling that will require West Virginia University (WVU) to make available seven previously redacted emails about a report detailing the economic impact of so-called right to work (RTW). The West Virginia Legislature approved RTW legislation last month.
In a bench ruling issued this morning by Seventeenth Judicial Circuit Judge Phillip Gaujot, the court determined the Teamsters were entitled to the contents of the emails as part of a Freedom of Information Act (FOIA) request the union previously filed. In addition, the judge said WVU must compile a listing of documents it withheld that could fall under the FOIA request for him to review and decide whether to turn over to the Teamsters if sought.
Ken Hall, Teamsters General Secretary-Treasurer and President of Teamsters Local 175 in South Charleston, W.Va., called the ruling a victory for all West Virginia workers. He said the fact that WVU was attempting to hide emails calls into question even more the impartiality of the study.
"GOP leaders leaned heavily on this study as the reason why West Virginia should enact this anti-worker legislation," Hall said. "Lawmakers made a grave error when they overrode the governor's veto and approved right to work. Everyday West Virginians deserve transparency and a full accounting of how this report came to be."