Posted: April 3, 2015
Source: AFL-CIO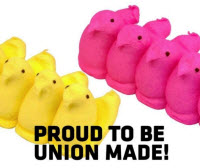 Passover begins today and runs through April 10, and Easter is Sunday. Here's a list of union-made in America treats to fill an Easter basket and other holiday accoutrements and some union-made in America recipe ingredients and drinks you may want to include in your seder and throughout Passover brought to you by the Los Angeles County Federation of Labor's resource site, Labor 411.
Easter

Cadbury Eggs
Jelly Bellies
Laffy Taffy
Necco Wafers
Mike and Ikes
Thin Mints
Tootsie Rolls
Peeps (BCTGM)
Ghirardelli chocolates (BCTGM)

And don't forget to pick up a union-prepared Easter ham or lamb:

Appleton Farms Ham
Black Forest Ham
Butterball Ham
Chiappetti Lamb
Cook's Ham
Farmland Old Fashioned Pit Ham
Farmland Original Pit Ham
Fischer Meats Lamb
Hormel Honey Roasted Ham
Tyson Ham

If you're feeling like doing a little egg dyeing, try these:

Alta Dena
Horizon Organic
President's Choice

Passover

Matzo Products, Crackers and Farfel
Manischewitz (UFCW)

Meats

Wine and Grape Juice

Arbor Mist (UFCW)
C.K. Mondavi (UFW, UFCW)
Chateau Ste. Michelle (UFW, IBT)
Gallo of Sonoma (UFW)
Turning Leaf (UFCW)
Minute Maid Grape Juice (UFCW)
Welch's Grape Juice (UFCW)

See more union-made wine and beverages here.

Check out Passover recipes from Manischewitz and Empire Kosher.