Posted: May 19, 2014
Source: AFL-CIO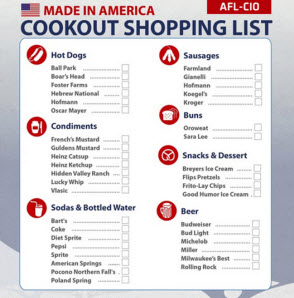 Memorial Day is the unofficial kickoff to the summer holiday season. While the day honors those who have given their lives defending the nation—and Jimmy  Gilbert, director of the AFL-CIO's Union Veterans Council, will write more on that next Monday—the weekend also marks the start of grilling season. Here's some union-made food and drink to get your barbecue off to a great start.
Text MADE to 235246 for more union-made-in-America product lists. 
Our list comes courtesy of Union Plus, the Bakery, Confectionery, Tobacco Workers and Grain Millers (BCTGM), the United Food and Commercial Workers (UFCW) and the Los Angeles County Federation of Labor's website Labor 411.
Hot Dogs, Sausages, Other Grill Meats

Ball Park
Boar's Head
Calumet
Dearborn Sausage Co.
Fischer Meats
Hebrew National
Hofmann
Johnsonville
Oscar Mayer

Condiments

French's Mustard
Guldens Mustard
Heinz Ketchup
Hidden Valley Ranch
Lucky Whip
Vlasic

Buns and Bread

Ottenberg's
Sara Lee
Vie de France Bakery

Snacks

Flips Pretzels,
Frito-Lay Chips
Oreos
Triscuits
Wheat Thins

Ice Cream and Frozen Treats

Del Monte Fruit Chillers
Breyers
Carvel
Good Humor
Hiland Dairy
Labelle Ice Cream
Laura Secord
MacArthur
Orchard Harvest
Prairie Farms
President's Choice


Hot Dogs, Sausages, Other Grill Meats

Ball Park
Boar's Head
Calumet
Dearborn Sausage Co.
Fischer Meats
Hebrew National
Hofmann
Johnsonville
Oscar Mayer

Condiments

French's Mustard
Guldens Mustard
Heinz Ketchup
Hidden Valley Ranch
Lucky Whip
Vlasic

Buns and Bread

Ottenberg's
Sara Lee
Vie de France Bakery

Bottled Water

American Springs
Pocono Springs
Poland Spring

Beer

Budweiser
Bud Light
Leinenkugel's
Mad River
Michelob
Miller
Rolling Rock