From Teamsters Joint Council No. 28 President Rick Hicks:
Dear Brothers and Sisters: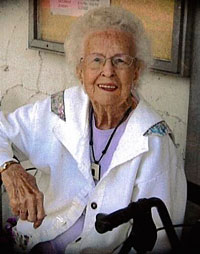 It is with the deepest sadness that I must announce that Arlene Sarah Eggert passed away peacefully on Friday, March I I, 2016. Arlene was the wife of Marven Eggert and the mother of Chuck Eggert.
Arlene was the foundation for the Eggert family allowing Marv and Chuck to serve our Union and the Brothers and Sisters from Teamsters Local Union No. 231. Both Marven and Chuck served as Principal Officer of Teamsters Local Union No. 231 and also served on the Joint Council of Teamsters No. 28 Executive Board and many Trusts.
Arlene was born in Bellingham on October 30, 1920 to William and Valdena Johnson. She was preceded in death by her husband Marven on March 13, 2004; daughter Christine Martin; father William Johnson mother Valdena Moblo and step-father Lester Moblo. Arlene is survived by her daughter Leslie Jones; sons Chuck Eggert and William "Bill" Eggert; 5 grandchildren; 10 greatgrandchildren and numerous nieces and nephews.
An Open House Celebration of Life will be held on Friday March, 18 12:30 p.m. at Moles Farewell Tributes – Greenacres. Memorial located at 5700 Northwest Dr., Ferndale, Washington.
Donations can be made to the Bellingham Food Bank.
Our thoughts and prayers go out to his family. She will be dearly missed.