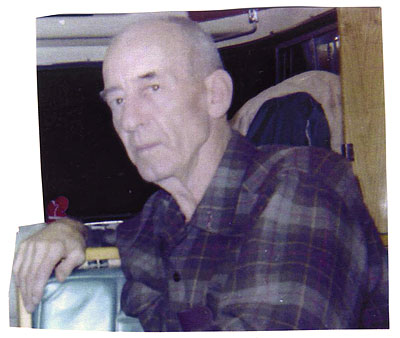 Elmer Davis was born in 1901 and grew up in Spokane WA. He, started working on cars as a kid and went to work for Regal Bros. as a mechanic in the 20's. The old Essex cars and others were what paid the bills. He worked on the Regal family 47 'yacht on Lake Pend' Oreille, doing the tune-ups. He helped build and develop the companies race car and drove it. They were going to Indy one year but the car blew the engine just before the race.
He left the company to start his own shop in Spokane . The shop did well until the depression hit. He closed the doors and took a large stack of checks to the bank. He received ten cents on the dollar. After that he went to work for Cater Systems Trucking as a driver mechanic. Most of the drivers had to work on the trucks in those days. He was a natural. Clare Cater started him out running to Missoula Mt. He ran that run for quite some time.
While driving to Montana, he befriended a fellow by the name of Johnny Manlowe, who later started and owned United truck lines. Johnny was running a solo, hauling produce from Spokane to Montana. Dad ran semi, truck and trailers and sometimes big solo's., hauling LTL and truck load freight.
The construction of Coulee Dam was beginning and he changed runs , hauling to the dam and other stops. The run to Coulee Dam took him through Davenport, Odessa, Coulee City , Ephrata , Napel, Stratford, Berk Jct, and on to Vantage. The rig was a three-axle Fageol with a 125 waukesha engine, 4 speed main and three speed brownie, pulling a three axle trailer.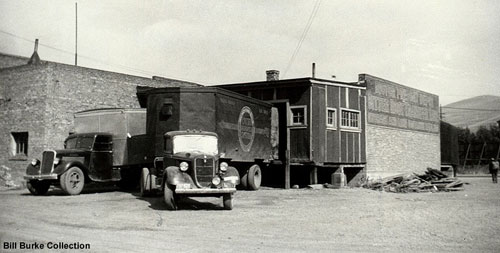 The run from Spokane to Vantage, paid $2.75 for T&T or $2.25 for solo's. The trucks had no heaters except what came through the fire wall. The trucks didn't have very good oil or air filters in those days. You had to clean them on the road at times. Dad carried a full set of rod bearing and tools; he had to drop the pan and change the bearings if the sand filled the oil pan.
The Columbia basin was a lot of sand and no water before the irrigation came in. The Dam changed that. No scales , overloaded most of the time and way freight along the way. What a way to make a living.
He was on the road most of the time, away from his family. He had two little daughters he was raising in Spokane., with the help of his Mom. His wife left him and took the girls to lower Idaho. He kept driving and ran sometimes to Portland and Seattle. The divisions changed as did the truck power. He got the first diesel Cater put on the road, in one of the Fageols. The old HB 150 was the third Cummins in Wa., in the freight industry, As Freightways had bought two. The Spokane division was extended to Ellensburg, being moved from Vantage where it had been for years. He became a charter member of Local 690 in Spokane and a charter member of Local 524 in Yakima. He later was charter member of Local 174 in Seattle.

He met my mother Lois , while she and my Aunt Pansy were working at Drivers Lunch café, in Ellensburg, WA. . The café was across main street from Comozzy and Williams , where the drivers would take on fuel. The Antlers Hotel was where the drivers stayed most of the time on layovers ,just a couple of blocks away. He had been with Cater for many years accident free. The times were changing in the late 30's and Mom and him got married in 37. He went to work for James J. Williams out of Spokane but lived in Cle Elum where the tanker t&t was stationed. He drove the second truck Joe bought. He had a accident of which was not his fault. The three in the model A ford were not injured.
The car was totaled. The lady in the car wrote a letter stating if it had not been for Dads fine driving they all would have been killed and the car driver caused the accident. The insurance agent made a mistake. The truck had a broken front spring, and was back on then road the same day. Dad way fired wrongly .
He went to work for Harms Pacific Transport, the next day. He was hauling fuel for 76 most of the time, driving the second truck J.D. Harms had put into service. Harky Harkness drove # 1 truck. They were both BM model Mack truck and trailers, six axles. He left Cle Elum with his young wife and new son Dick, and moved to Seattle, in 1940. He went to work for IMF/PHT auto freight.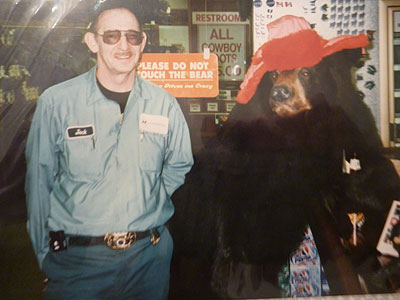 He worked hauling a lot of war time freight , in and out of all of the military bases on the was coast. I was born in 1941 and my sister Diane was born a couple of years later. The weather on the coast caused Dad a lot of health problems. We moved back to Ellensburg in 1946. He worked for Eland Stewart until 1948. He became section foreman for the Washington State Dept. of Highways. He ran the crews and all of that district. He had the first Motorola mobil two way radio installed in a state truck in central Washington.
He could talk to Olympia and Yakima , he was E-1. I rode in the old Dodge truck with Dad in those days. He worked well with the State patrol. Sergeant Baker had charge of the area detachment for the Washington State Patrol. Our families spent a lot of time together. I went for a lot of rides in the State Patrol car with Art Baker and Dad when they went on a call together. The State car was a gray Chrysler 4 door. Sgt. Baker and Dad helped the trucks a lot in many ways making the roads safer. The fast freight rigs, of United Trucking (Over Nite While You Sleep) were trying to make the runs from Seattle to Spokane in one shift, without a division. They were rolling pretty hard. Sgt. Baker finally sent word to Johnny Manlowe to slow the rigs down or he would start writing tickets. They went back to all division runs for the time.
Dad left the State when the administration changed in1952, to become a business agent for the Teamsters union in Yakima. He was with # 524 , until he was given a better job with the Laundry workers union. He traveled a lot all over the state.
We started E. Davis Trucking (CC # 10309) in 1953, hauling farm products, milk, and building materials. We hauled a lot of Hay and grain for many years. We did local farm hauling. We had milk by the cans on our permit.. We hauled to the barns with hay as well as long hauled. The corn, grain and others we hauled local and long distance. We sold all the trucks in 1959. Both Dad and I went to work for Hibbs Packing Co. of Ellensburg. My brother Dick worked there in the summers.
Dad drove a new freightliner with a 250 cummins,5×4, with a dromedary box, and 40 trailer, hauling cattle. He made a few trips to California with me , hauling swinging meat on my set of doubles. This was to be Dads last commercial driving Job. He retired and applied for his Teamster Pension. They gave him $17.00 a month because he had broken service. We left Ellensburg and went commercial fishing (another story).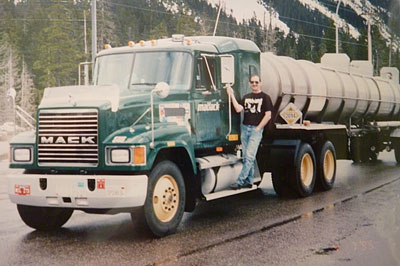 I learned a lot from Dad even though he was tough to work with at times. He taught me to mechanic, drive truck, and respect others. He and many other drivers have given me and this industry a lot of what it is today. They are all gone now, but you can pass it on, as they did.
The life is not an easy one, but it pays the bills.
May the wind always be at your back, with a strong horse to pull your load. May your copilot watch over you always, bringing you home safe.
You have been given a lot, help protect it always.
Son of Elmer J. Davis —
Jack W. Davis, Retired Teamster