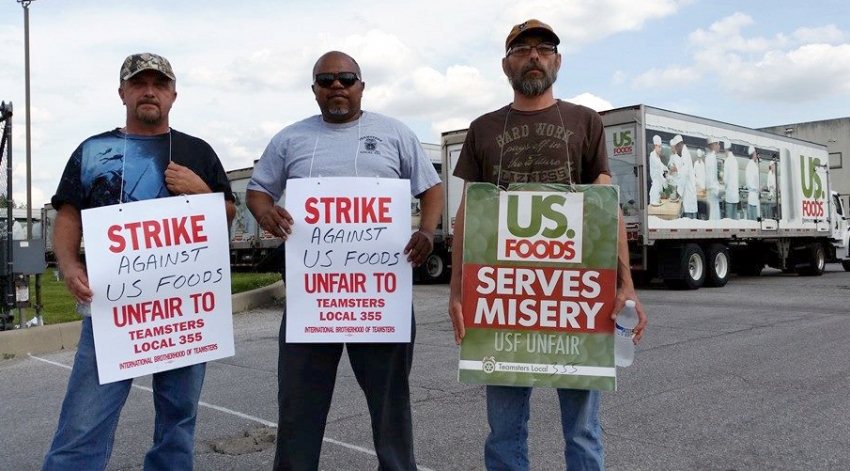 IN THESE TIMES | A rolling strike is hitting multiple warehouses operated by the nation-wide grocery distributor US Foods, Inc. as the Teamsters union tries to fight off threats to its jobs by death from a thousand corporate cuts.
The latest in a six-week series of strikes hit a US Foods distribution center in Plymouth, Minnesota, June 8, when truck drivers, warehouse, yard and maintenance workers, and office staff from Teamsters Local 120 honored a picket line manned by Teamsters from Maryland. The job actions have been hitting widely scattered US Foods sites across the country since US Foods triggered a strike in the Baltimore suburb of Severn, Maryland, with a scheme the union says is designed to to fire union workers and shift their jobs to non-union sites.
Teamsters Local 120 of Minnesota joined US Foods workers in New Jersey, Indiana, Colorado, Michigan, Washington, Illinois, New York and Ohio who have taken similar action since the Severn strike began April 27, says union spokesperson Ted Gotsch. All told, some 2,800 US Foods employees have stopped work in the coordinated job actions, according to the Teamsters, and the rolling strikes are expected to continue.