January 10, 2017
Ju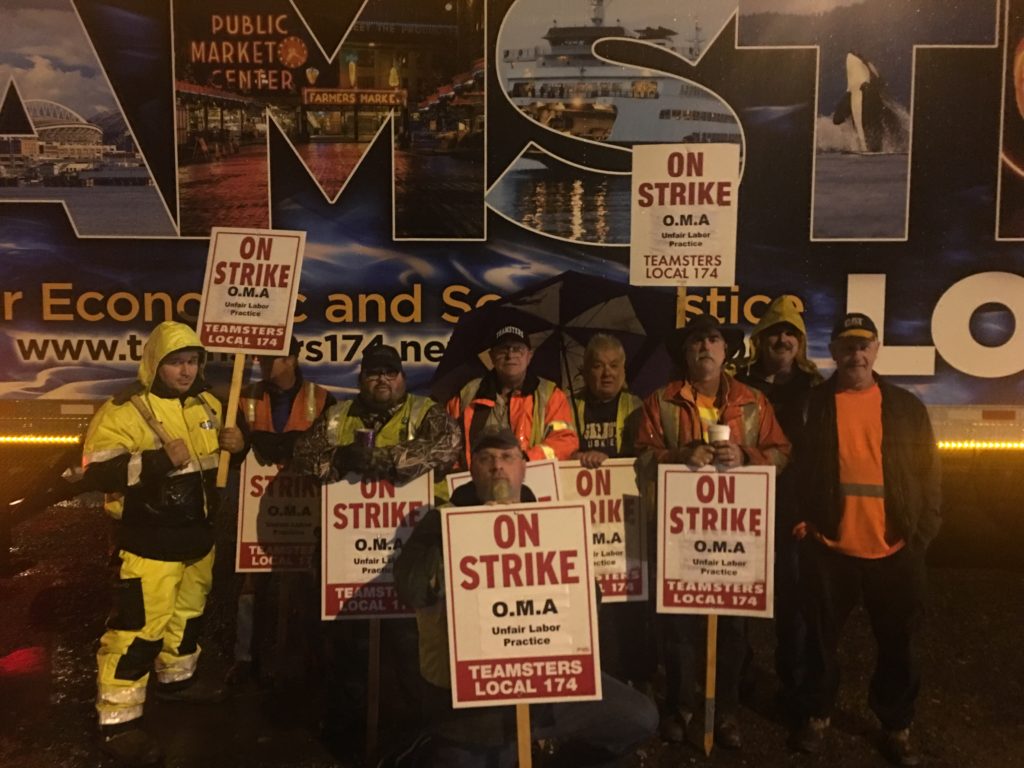 st before five o'clock in the morning on October 20, 2016, in the cold pre-dawn darkness, a canopy was raised next to a construction yard in Seattle to protect the people underneath it from the driving rain. A burn barrel with the numbers "174" carved into it was filled with wood and set on fire. Someone had brought hot coffee, someone else had brought doughnuts, and everyone wished they had remembered their long underwear. The Teamsters Local 174 semi truck was parked across the street, and out of it came dozens of signs nailed to wooden stakes. The signs, which had been assembled the prior day, read "On Strike – O.M.A Unfair Labor Practice." Teamsters Local 174 was going out on strike.

The strike that day was against OMA Construction, and was sparked by several Unfair Labor Practice charges as OMA refused to bargain in good faith. Fed up with this treatment, OMA workers throughout the region put up picket lines at locations in Seattle and Sumner, effectively shutting down almost all of OMA's operations.
For the OMA Teamsters out on the strike line that day, the mood was equal parts concern and exhilaration. Concern that the strike might be too effective, costing the company too much money, or that it would drag on indefinitely; exhilaration over standing side by side with their Union Brothers and Sisters while the trucks they would normally be driving sat empty in the yard.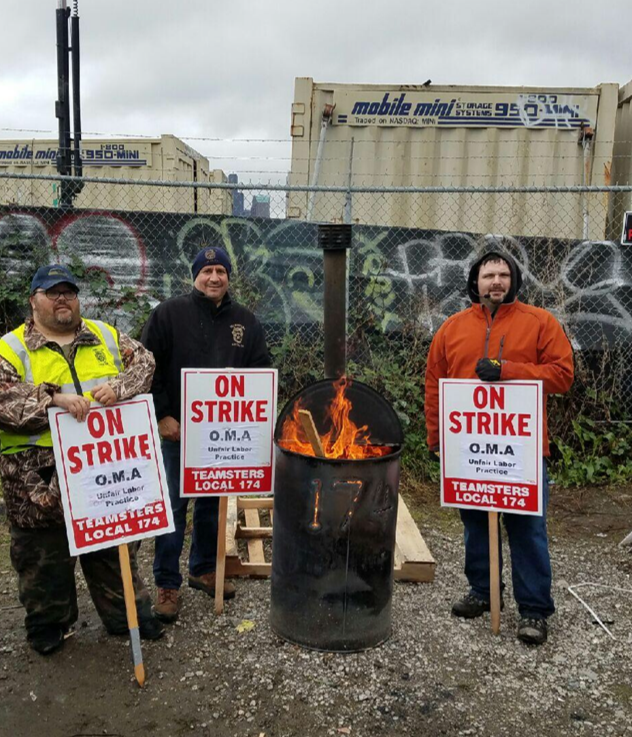 "We knew that every hour those trucks sat there, the company's owner was losing revenue," said an OMA employee. "It's scary putting yourself out there like that. You worry about your family, about your mortgage. But at the same time, I've never felt so completely like part of a team. We were all in this together."
And it worked. After spending the day in the cold holding strike signs while passing cars and trucks honked in support, the strike captains at the two locations received calls from Local 174 Secretary-Treasurer Rick Hicks telling them that the strike was over, and we were heading back to the bargaining table.
"Nobody ever really wins from a strike, but in this case we had no choice," Hicks said. "This time it was a success, though, because we were able to resolve the Unfair Labor Practice charges and bring them back to the table."
Just one month later, the canopies, burn barrels, and strike signs were brought out again – this time against Selland Auto Transport, a carhaul company that transports new vehicles across the western US for Toyota, Honda, VW, Hyundai, Mitsubishi, Kia, and others.
The s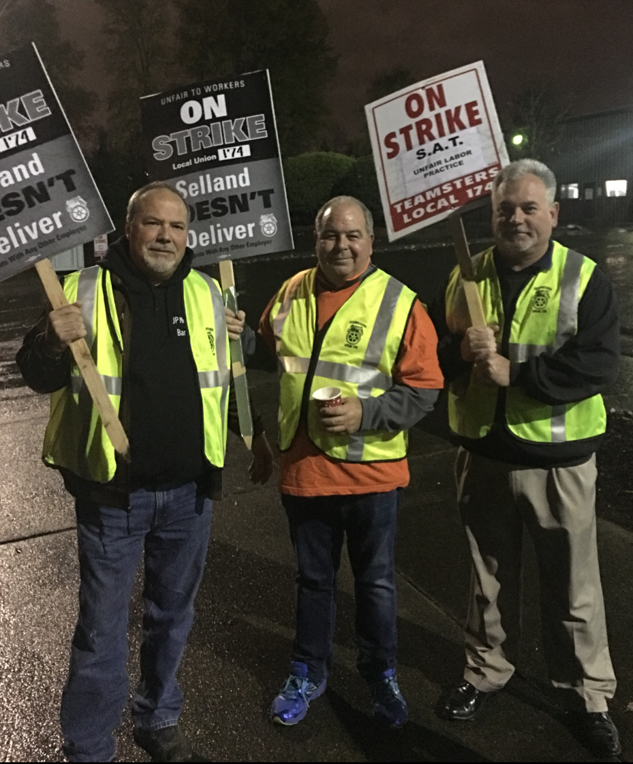 trike against Selland was carried out simultaneously throughout the entire Western region. Employees represented by seven different Teamster Locals in Montana, California, Utah, Oregon and Washington all parked their trucks at midnight on November 21, crippling company operations.
Just like at OMA, this strike ended on the same day that it began, having been declared a success. The picket lines at Selland were held firm not only by Teamster drivers and Business Agents, but by International Trustee and Carhaul Division Director Kevin Moore and Local 174 Secretary-Treasurer Rick Hicks. Everyone took a turn holding a sign in the cold, delaying trucks attempt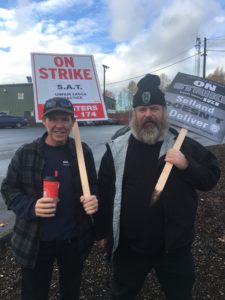 ing to cross the picket line, and fighting to be treated with respect.
Since that successful strike, Selland has returned to the bargaining table to continue to negotiate a contract. In a sign of progress since the strike, one important issue has been resolved: year-end bonuses that the Company had attempted to change unilaterally. Negotiations will continue on January 17 and 18.
A strike is and always will be considered a last resort. But these two successful Unfair Labor Practice strikes brought the companies back to the bargaining table and brought renewed confidence to the Teamster membership. Warming our hands over the fire, the Teamsters stand together both figuratively and, at times, literally. This is what our Union is all about.