October 31, 2017
At just 26 years old, school bus driver Olivia Moore has fought more hard battles than most of us will in a lifetime. She lost her mother during childhood, battled homelessness, depression, and anxiety, and is now standing shoulder to shoulder with her coworkers in the most important battle of all: a battle for healthcare that she needs to save her life.
"It started when I noticed a mole looked weird, and was getting bigger," she says. "This was after I had already turned 26 so I wasn't on my dad's health insurance anymore."
As an employee at First Student, Olivia does not receive health insurance through her job – a fact that she and her coworkers, who are proud members of Teamsters Local 174, have been fighting hard to rectify.
Once she noticed her moles starting to change, she got an appointment at Sea Mar, a community-based organization that provides medical services on a sliding scale accessible to people like Olivia who do not have insurance. After a visit with a dermatologist and then a cancer specialist, she received the news:
"They told me I have basal cell carcinoma," she says.
Being diagnosed with cancer would be devastating for any one of us, but it is even more devastating for Olivia, because without medical insurance, she cannot afford proper medical care. Instead, the only medical care she receives is through Sea Mar, and even that is barely affordable for her, though the services are deeply discounted.
"If I had health insurance, I'd be making appointments right now with specialists to look at all of my moles, to get all the bad ones removed. I might be doing overall body chemotherapy. Any kind of treatment that they would want to do, I'd be doing it," she says. "I'd like to see a nutritionist to find out if there's anything I shouldn't be eating. I'd like to know the underlying causes of this. I'd like to have preventative care."
Instead, she is stuck watching helplessly as mole after mole appears and begins to grow. "We should be doing something much more aggressive to treat this. But I can't afford it."
Olivia's tragic story is one that is all too common in the USA's splintered healthcare system. The timing is especially poignant right now because Olivia's Union, Teamsters Local 174, is currently locked in battle with employer First Student over this very issue: providing health insurance to the company's unionized workforce. Olivia's coworkers, a group of over 400 school bus drivers working in the Seattle School District, are currently on the brink of a strike over their employer's refusal to bargain fairly over health insurance.
"It is a disgrace that these hardworking individuals do not have healthcare," says Teamsters Local 174 Secretary-Treasurer Rick Hicks. "How can First Student stand by and watch while one of their employees may actually die because they want to pad their bottom line?"
"We are not going to let that happen to Olivia," he continues. "She is one of us, and we will do everything in our power to support her. If that means going on strike to get the healthcare that First Student promised these bus drivers, then that is what we will do."
Meanwhile, Olivia strives to stay positive. "I love the kids that ride my bus. I know all my kids' names. I just enjoy them. They tell me about their day. There's one little girl who's being bullied right now at school, and so I always talk to her, and I make sure to keep up on telling the teachers. I try to create a safe space on my bus where they can tell me anything."
Of course, that safe space goes both ways, as Olivia speaks candidly with the kids on her bus as well. "The kids are aware of what's going on," she says, referring to her battle with cancer. "They are 100% on my side and they ask me how are you doing? How are you feeling today? I had a little girl make me a card that said 'I'm sorry you have cancer.' I'm glad that she feels comfortable enough to do that."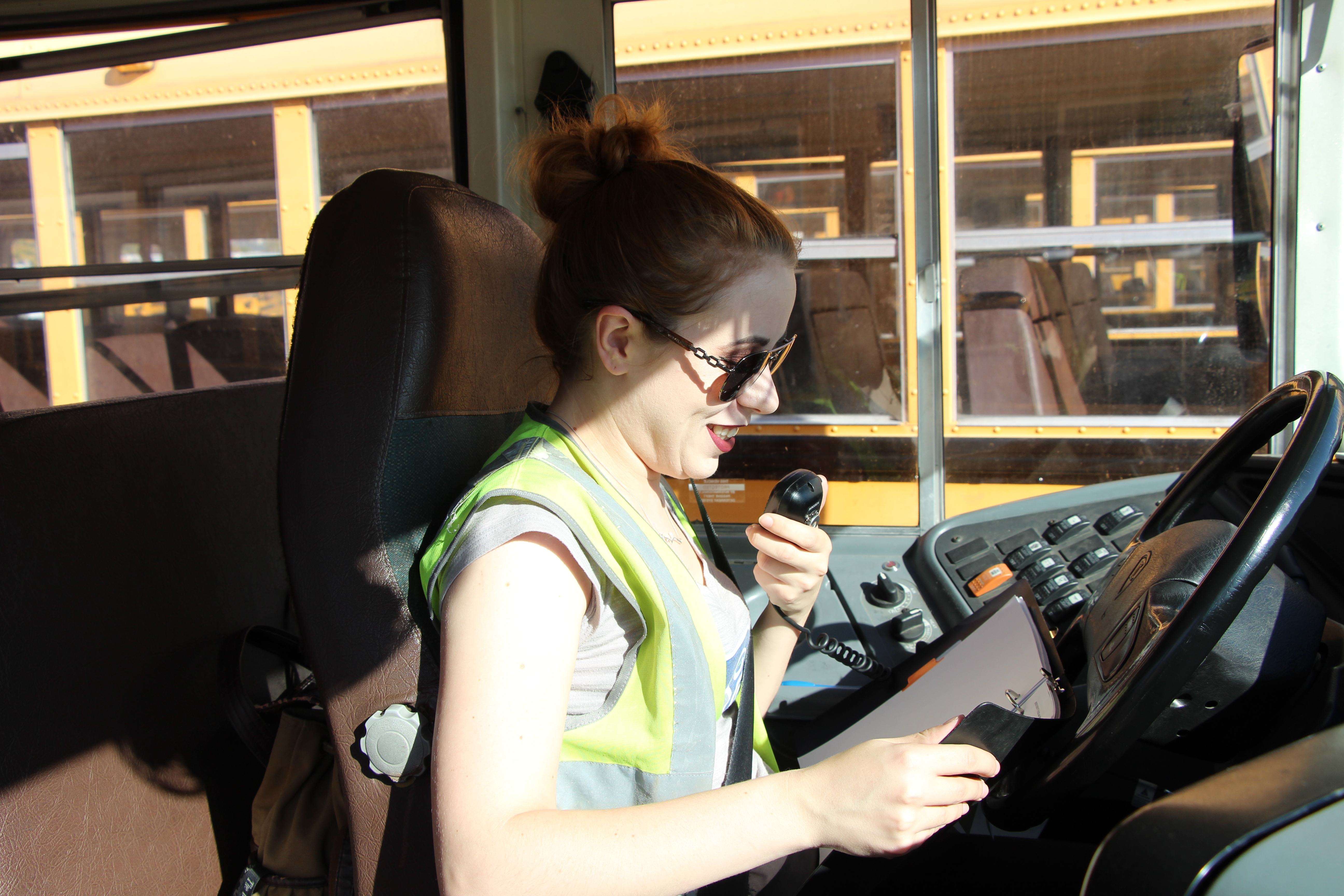 Even with the kids, their parents, and her Union standing behind her, Olivia still faces intense anxiety about the future. "My migraines are back from the stress. I'm losing hair. Constant tension. My appetite is gone. I'm stressed to the point where I'm just calm, like I've reached beyond hysterics into pure calm. Any other bad news I get, I just accept it at this point."
"I've got no resources to fix what is wrong," she says sadly.
And of course, without health insurance, she also cannot seek mental health treatment for the incredible anxiety and depression that come with watching a serious and potentially terminal illness creep through her body with little recourse to stop it.
"People like Olivia are the reason why we fight," says Rick Hicks. "The Teamsters believe that health insurance is not a luxury – it is a necessity. Because without it, what are people like Olivia supposed to do? If people cannot get health insurance through their jobs, then where can they get it?"
"This fight is not just about Olivia, and it is not just about 400 bus drivers in Seattle. It is about an entire industry that has been overlooked and underpaid for too long," Hicks continues. "School bus drivers work hard doing a job that most of us would not want to do. They deserve to be treated like human beings with dignity and respect. At a minimum, they deserve to be able to get treatment for cancer. It is ridiculous that we even need to say that out loud."
As for Olivia, she longs for the day when her Union wins this fight, and she can get the healthcare she needs. "It will just feel like there's a weight off my shoulders," she says. "I'll just collapse in relief that I don't have to worry about dying young like my mom did at 32."
"With the Teamsters at her back, we know we will get there," Hicks says.
Founded in 1909, Teamsters Local 174 represents 7,200 working men and women in the Seattle area. "Like" us on Facebook at www.facebook.com/TeamstersLocal174.