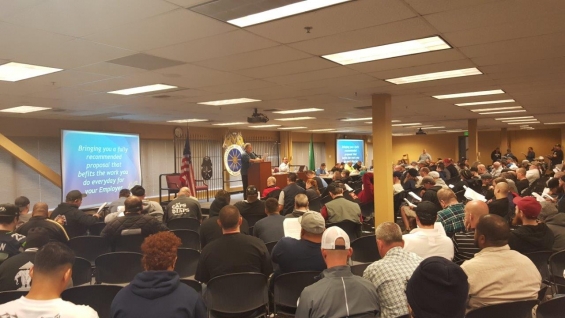 TEAMSTER.ORG | Teamsters Local 174 members who work for Columbia Distributing in Kent (Wash.) have ratified a five-year collective bargaining agreement, securing key job protections and health insurance benefits.
After returning to the bargaining table, the Teamsters and Columbia were able to avoid a strike and reach an agreement that guarantees labor peace for five years. The members affected by the contract who work at Columbia ratified the agreement Saturday.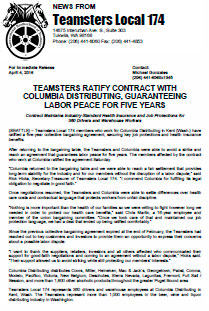 "Columbia returned to the bargaining table and we were able to reach a fair settlement that provides long-term stability for the industry and for our members without the disruption of a labor dispute," said Rick Hicks, Secretary-Treasurer of Teamsters Local 174. "I commend Columbia for fulfilling its legal obligation to negotiate in good faith."
Once negotiations resumed, the Teamsters and Columbia were able to settle differences over health care costs and contractual language that protects workers from unfair discipline.
"Nothing is more important than the health of our families so we were willing to fight however long we needed in order to protect our health care benefits," said Chris Martin, a 16-year employee and member of the union bargaining committee. "Once we took care of that and maintained our job protection language, we had a deal that ended up being ratified comfortably."
Since the previous collective bargaining agreement expired at the end of February, the Teamsters had reached out to key customers and investors to provide them an opportunity to express their concerns about a possible labor dispute.
"I want to thank the suppliers, retailers, investors and all others affected who communicated their support for good-faith negotiations and coming to an agreement without a labor dispute," Hicks said. "Their support allowed us to avoid striking while still protecting our members' interests."
Columbia Distributing distributes Coors, Miller, Heineken, Mac & Jack's, Georgetown, Pabst, Corona, Modelo, Pacifico, Victoria, New Belgium, Deschutes, Sierra Nevada, Lagunitas, Fremont, Full Sail / Session, and more than 1,800 other alcoholic products throughout the greater Puget Sound area.
Teamsters Local 174 represents 360 drivers and warehouse employees at Columbia Distributing in Kent, Wash. The Teamsters represent more than 1,000 employees in the beer, wine and liquor distributing industry in Washington.