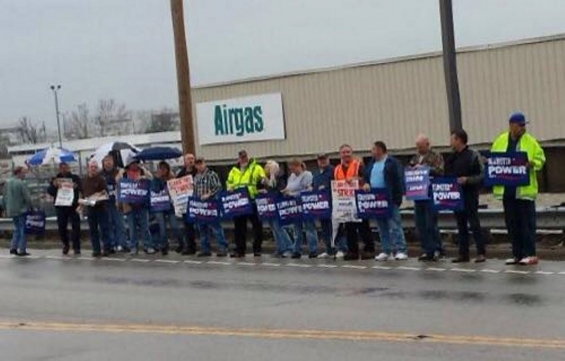 TEAMSTER.ORG | Drivers and plant operation workers at industrial gas company Airgas [NYSE: ARG] returned to work this morning after ending their 24-hour strike.
The workers, members of Teamsters Local 100 in Cincinnati, unanimously authorized a strike less than two weeks ago and went on strike yesterday to protest Airgas' violations of United States and international labor laws. The workers' contract with the company expired on Nov. 30, 2015.
Last month, Airgas shareholders approved the sale of the company to France-based Air Liquide.
"Yesterday's strike by members of Teamsters Local 100 was a message to Airgas and Air Liquide's management that their American workers will not tolerate violations of labor laws or their human rights. We demand that Air Liquide direct Airgas management to stop the attacks on their dedicated and loyal American workers," said Sam Bucalo, Secretary-Treasurer of Local 100.
"I'm proud of Local 100 Teamsters. Every one of its Airgas members stood up to international Goliath Air Liquide on that picket line yesterday and declared, 'Stop the attacks!'" said Keith Gleason, Teamsters Tankhaul Division Director. "The ball is in Airgas' court now. We expect the company to stop violating the law, and that when negotiations resume April 5, they'll drop what they termed their 'throwaway proposals' and get down to the business of negotiating in good faith."