November 3, 2017
Yesterday afternoon, there was a meeting at the Teamsters Local 174 Union Hall between representatives from the Teamsters and First Student. The meeting, which included decision-makers from both sides, was not a bargaining session; instead, it was an attempt to assess the lay of the land and discuss next steps as First Student strives to avoid a strike by over 400 school bus drivers in Seattle.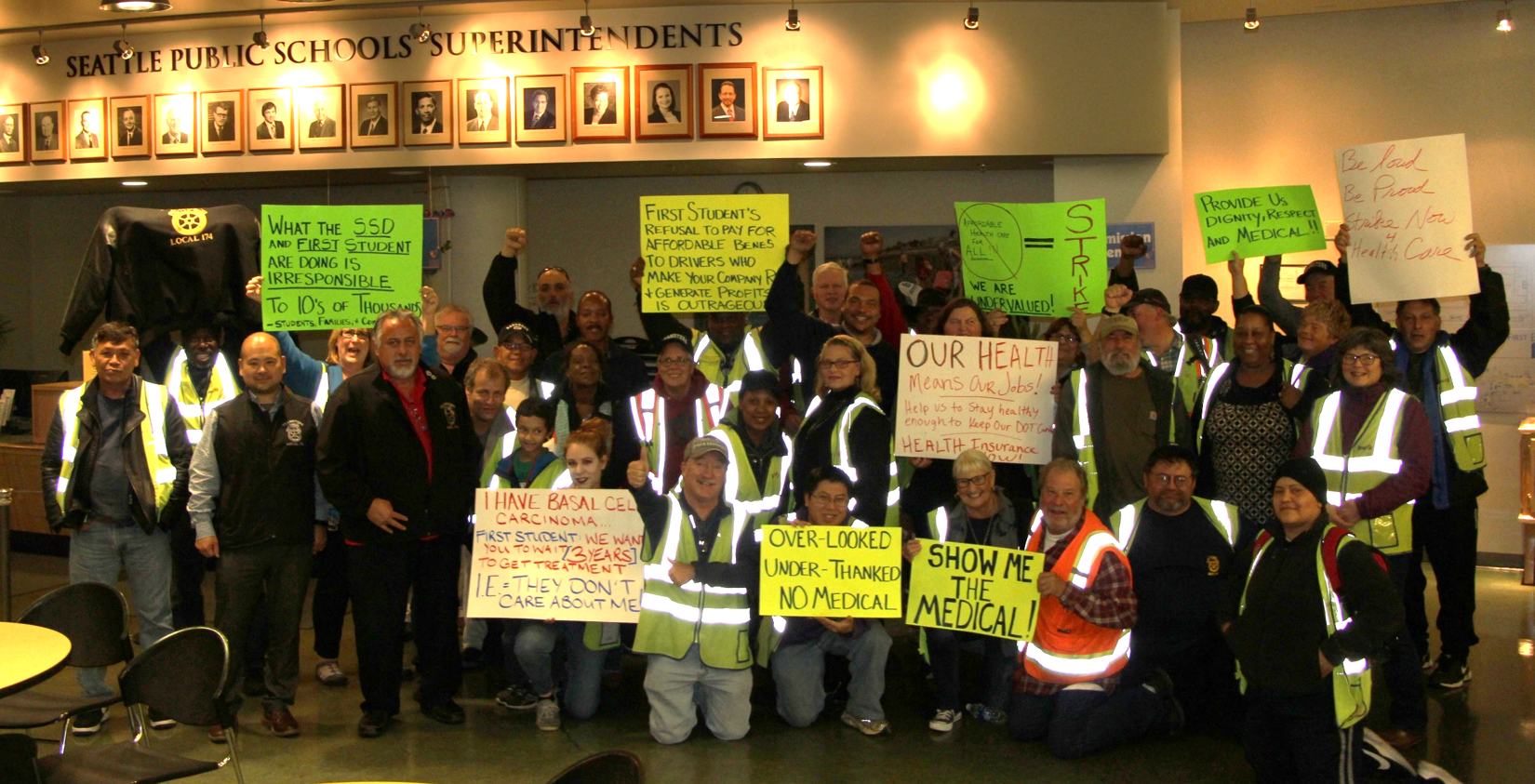 The meeting led to two important outcomes: first, there will be another bargaining session on November 9 – a session at which a federal mediator may be present. And second, a meeting is being scheduled for next week involving representatives from the Teamsters, First Student, and the Seattle School District. The discussion will center on the serious funding concerns around transportation, and a pathway forward that will lead to a positive outcome for the school bus drivers and their families.
"While yesterday's meeting was a step in the right direction, make no mistake – it was only a small step," said Local 174 Secretary-Treasurer Rick Hicks. "We still have a great deal of ground to cover, and First Student needs to continue to demonstrate that they are taking our members' needs seriously. Our message to First Student is very clear: the Teamsters will continue to push for quality affordable healthcare and retirement security for our members. We have no intention of backing down from those issues."
In the meantime, a strike by the school bus drivers, who are responsible for all yellow bus service for the Seattle School District, is still a very real possibility given the lack of measurable progress in the negotiations.
"We are open to any proposals that First Student brings to the table next week," Hicks said. "But if they do not include a serious attempt to address our members' needs for healthcare and retirement security, then a strike will be almost inevitable."
Meanwhile, Teamsters Local 174 continues to question the Seattle School District's decision to press First Student for a secondary Request for Proposal that removed healthcare and retirement security from its employees' compensation.
"The School District's irresponsible decision to cut funding for bus drivers' healthcare and retirement is the main reason we are in this situation right now," Hicks said. "The School District needs to step up to the plate for these school bus drivers just as much as First Student does."
Founded in 1909, Teamsters Local 174 represents 7,200 working men and women in the Seattle area. "Like" us on Facebook at www.facebook.com/TeamstersLocal174.