August 2, 2017
Yesterday morning, the auditorium at the Local 174 Union Hall was once again packed with an army of orange shirts, as employees from five Sand & Gravel companies – Cadman, Stoneway, CalPortland, Salmon Bay Sand & Gravel, and Lehigh Cement – all attended a 9:00AM meeting to discuss the status of their contract negotiations. The contract had expired at midnight the night before.
The status of their negotiations? "No deal," Local 174 Secretary-Treasurer Rick Hicks told the assembled crowd. "We were at it until almost one o'clock in the morning last night. They gave us a last-best-and-final offer, that wasn't even close to what you sent us to get. Not just in the money, but in the language that would protect your jobs."
"These Employers were trying to convince us that even though Seattle keeps setting new construction records week after week, they aren't making record profits," Hicks continued, his voice laced with sarcasm. "Are you ready for this? They tried to tell us that skyscrapers aren't built with concrete anymore. They're built with wood and steel from China."
The room erupted in laughter at that ridiculous statement. "These are the guys that pour the concrete. You can't tell them buildings aren't made with concrete and expect them to do anything but laugh," Stoneway employee and rank-and-file Bargaining Committee member John Anderson said after the meeting ended. "We're out there day and night pouring concrete to build buildings! These guys are kidding us, right?"
The group responded to the Employers' lowball last-best-and-final offer predictably: with a unanimous refusal to even vote on the offer.
After that, a huge group volunteered to help put together picket signs in preparation for the possibility of a strike. In fact, there were so many volunteers, the assembly lines were packed and there were still bodies to spare.
Still, everyone found a way to be useful. "I'm the moral support," Stoneway employee and rank-and-file Bargaining Committee member Sean Stott announced. "You guys are doing a great job! Keep it up!" he shouted to his fellow Teamsters, and they all laughed.
As for the negotiations, they are continuing today. This morning, the rank-and-file Bargaining Committee along with representatives from Local 174 will be meeting once again with Company representatives, but this time they will have a mediator present to help the two sides reach a deal.
And what happens if a deal cannot be reached? "If these Employers won't come to their senses and recognize that you can't cry poor during the biggest boom you've ever had, and you can't refuse to even address some of the most important proposals we've put forward, then those picket signs won't just be a precaution anymore."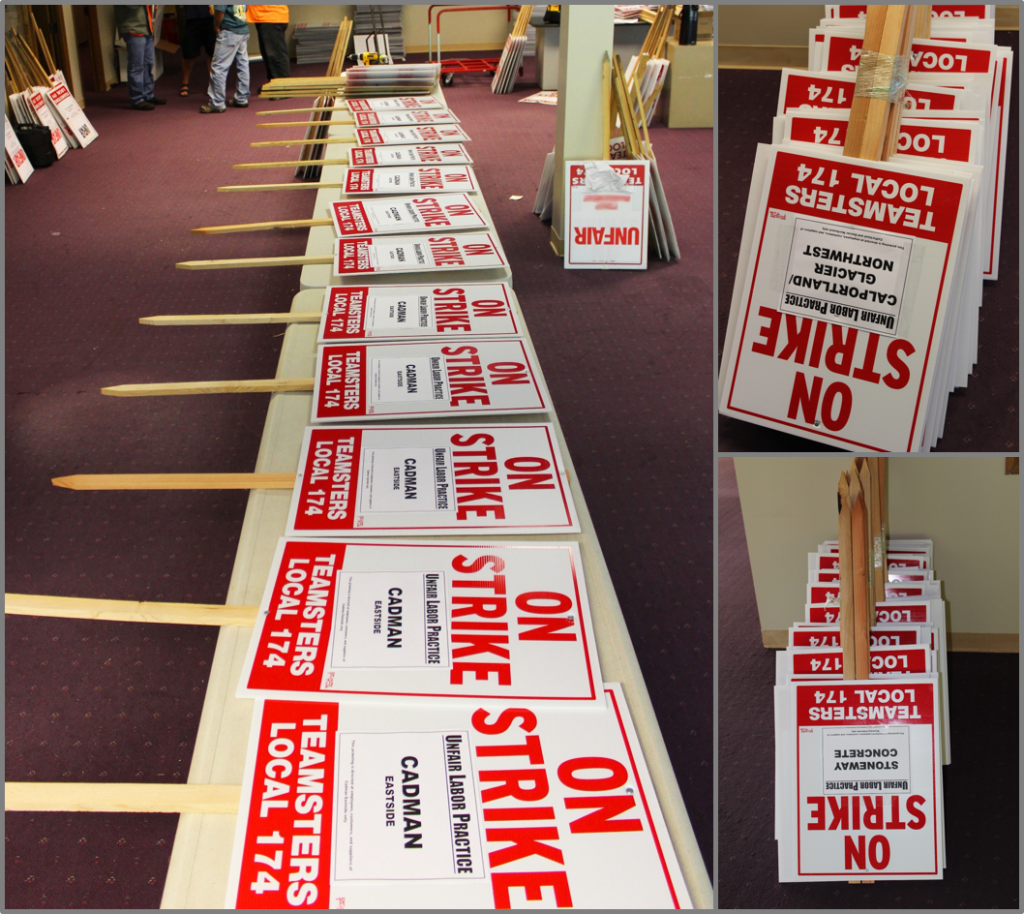 "This group is 100% solid and ready to go," he continued. "I hope these Employers realize that. This is a record-setting time for construction in Seattle, and this contract for our members will reflect a record-setting package. It's time for the Employers to respect the skills and work that we perform for them."
Founded in 1909, Teamsters Local 174 represents 7,200 working men and women in the Seattle area. "Like" us on Facebook at www.facebook.com/TeamstersLocal174.