February 10, 2018
By a 97% Margin, Contract Ratification Brings Expanded Healthcare and Pension to Drivers and Their Families, Allowing Yellow Bus Service to Resume on Monday
Teamster Local 174 members who drive school buses for the Seattle School District met at the Union Hall this morning to vote on a fully-recommended agreement. The agreement passed a vote of the membership by a wide margin, bringing to an end the nine day strike that began on February 1, 2018.
The new agreement is an overwhelming victory for the group of more than 400 bus drivers. Most of them did not receive healthcare through their employer and did not have access to a reasonable retirement plan. All of that changes with the ratification of this agreement.
The agreement provides quality healthcare at an affordable cost. It also provides the bus drivers with a Teamster pension plan, the first ever achieved for contracted school bus drivers in Seattle and possibly the entire country for First Student members.
"This is life-changing," said First Student driver Olivia Moore, who has been struggling to receive treatment for cancer despite having no health insurance. "This is what we have been fighting for. I can go to the doctor. I can retire someday. I can't even tell you how much that means."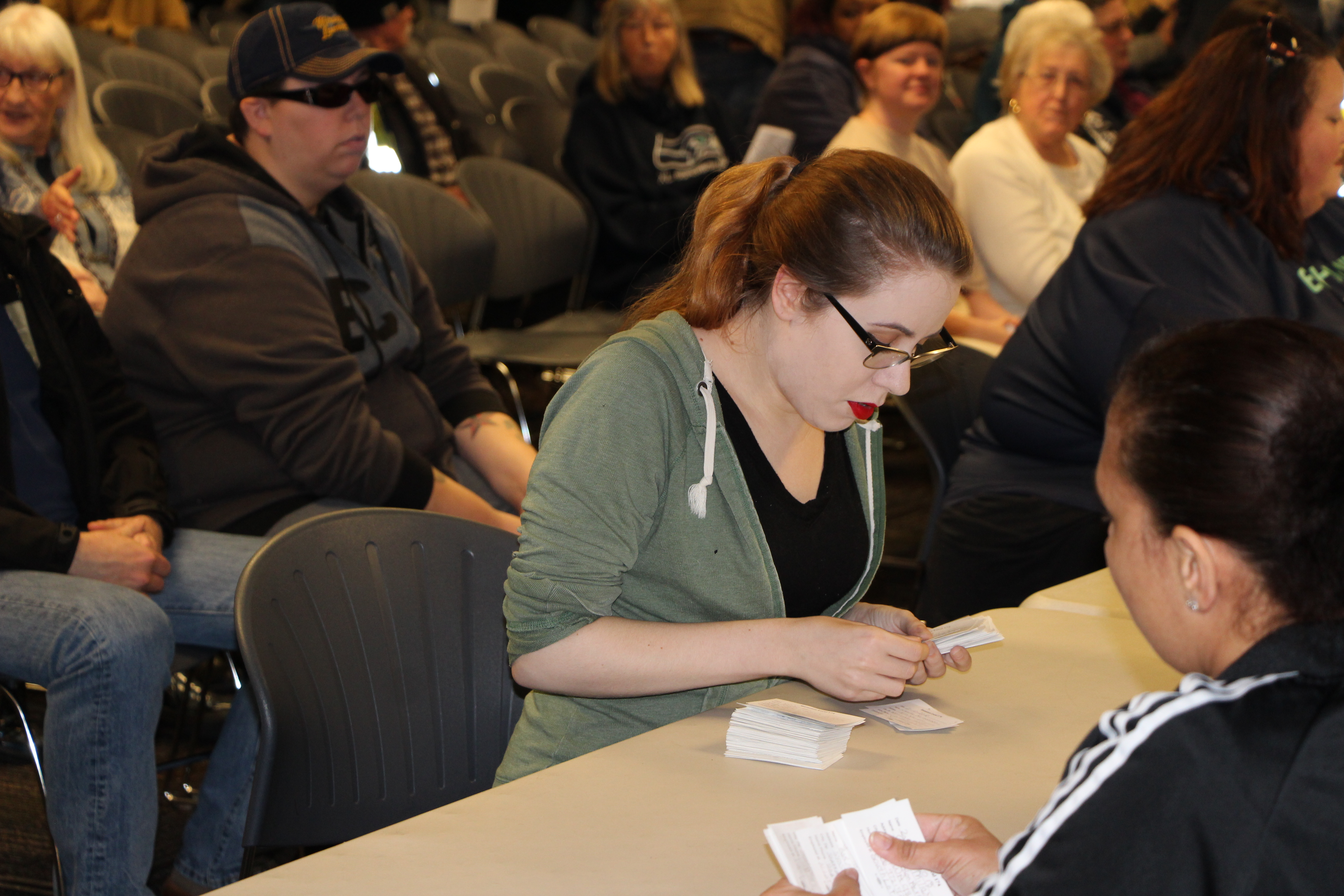 The agreement was reached after a marathon negotiating session with the help of a mediator on Thursday and finalized midday Friday. Saturday morning, hundreds of First Student bus drivers packed the Union Hall to learn about the tentative agreement and cast their votes.
"I'm so happy right now," said First Student driver Chrystale Holiwell. "We've never had anything like this before. I'm in tears." The meeting was extremely emotional, as the drivers realized their lengthy battle for human rights and dignity had finally paid off.
"The reason we were successful is because of your solidarity, courage and fortitude on the picket line," Local 174 Director of Negotiations Patty Warren told the group. "We didn't do this – you all did."
"I am so proud of this group for their incredible courage, strength, and solidarity," said Local 174 Secretary-Treasurer Rick Hicks. "We are also thankful to the support from the community – the parents, the teachers, the politicians and all our sisters and brothers in the labor movement who brought strength to the Teamsters on the picket line. Everyone who made a phone call, walked a picket line, sent an email, or just honked their horn as they drove by – without you, we wouldn't be here right now. This is an important and historic victory the entire labor movement can celebrate!"
Drivers will be back to work on Monday, and are excited to be reunited with who they affectionately refer to as "their kids." "I miss them. I can't wait to see them, and thank them and their parents. This is a great day," said 46-year driver and Bargaining Committee member Joyce Hiatt. "A really great day."
Founded in 1909, Teamsters Local 174 represents 7,200 working men and women in the Seattle area. "Like" us on Facebook at www.facebook.com/TeamstersLocal174.