Posted: October 29, 2014
Source: Teamsters Local 174
To all wishing to honor Brian Davis: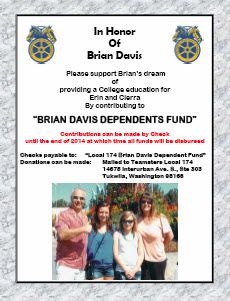 We have recently sent notice for the Celebration of Life event that will be held on Saturday, November 8, 2014 at the Teamster Building in Tukwila, Washington at 1:00 p.m. to honor the passing of our Brother Brian Robert Davis.
We would like to share with you some information about his surviving family.
Brian has a daughter from a previous marriage, Erin, who is twenty-two years old and currently enrolled at Western Washington University in Bellingham, Washington. Brian had committed to Erin that he would pay for her schooling while she continued her pursuit for higher education.
Cierra is a freshman attending Decatur High School in Federal Way, Washington. Cierra is the daughter of Araina who Brian was engaged to when he passed. Brian has raised Cierra and has been her sole source of income since she was six years old.
Teamsters Local No. 174 will be accepting donations on behalf of Brian's two dependents, Erin and Cierra in an attempt to help them with their future education needs.
This request is being made to help offset the loss of revenue due to Brian's untimely departure and his inability to provide those securities in the future. All monies raised will be divided equally between his two loving daughters and will be very much appreciated.
Thank you all in advance for your consideration.
Sincerely,
Rick Hicks
Secretary-Treasurer
Teamsters Local Union No. 174